Russian lawyer who met with Donald Trump Jr linked to investigation group behind salacious Steele Dossier and Gawker/Gizmodo
Mr Trump's eldest son said he felt obliged to attend the meeting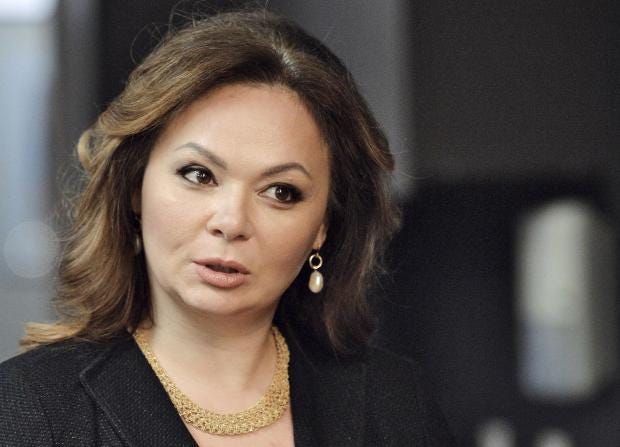 The Russian lawyer who met Donald Trump Jr and allegedly offered to supply damaging information about Hillary Clinton, is apparently linked to a firm that helped compile the notorious dossier of wild and unproven allegations about the US President.   The President's eldest son said he met lawyer Natalia Veselnitskaya, after being told she had information that individuals connected to Russia were funding the Democratic National Committee and supporting Ms Clinton. He said it soon become clear she had no such information and rather wanted to press him about her effort to overturn the Magnitsky Act, a US law that blacklists several Russians linked to the 2009 murder of another Russian lawyer, Sergei Magnitsky.   A spokesman for the President's legal team told The Independent they now believed Ms Veselnitskaya and her colleagues had misrepresented who they were and who they worked for.  
In a statement, Mark Corallo added: "Specifically, we have learned that the person who sought the meeting is associated with Fusion GPS, a firm which according to public reports, was retained by Democratic operatives to develop opposition research on the President and which commissioned the phony Steele dossier."   Fusion GPS, which is based in Washington DC and was established by former Wall Street Journal reporters Glenn Simpson and Peter Fritsch, found itself in the spotlight earlier this year after it emerged it was behind an "oppo research" dossier containing unproven and often salacious allegations about Mr Trump.   The company had originally been hired by Republican rivals of Mr Trump during the primary campaign. After he secured the party's nomination, the company was instead paid by Democratic financial supporters of Ms Clinton. In the summer of 2016, GPS hired former British intelligence agent, Christopher Steele, to help their work.   Mr Steele once headed MI6's Russia desk and left in 2009 to form his own London-based consulting firm, Orbis.   
  Among the unverified information that Mr Steele provided for Fusion and which which was later shared with US intelligence and senior politicians, among them then President Barack Obama, was that Mr Trump had been compromised by Russia's FSB spy agency during a trip to Moscow in 2013.   The dossier, which was published by BuzzFeed and denounced by Mr Trump as fake news, claimed Mr Trump was secretly filed with Russian prostitutes in a sting operation in Moscow's Ritz-Carlton hotel.   The developments come as special prosecutor Robert Mueller is heading a federal probe into possible collusion between the Trump campaign team and Russia's alleged interference in the 2016 election.   The Associated Press said Ms Veselnitskaya, who was once married to a deputy transportation minister of the Moscow region, was "a largely unknown figure until" she began to represent the son of a Russian official in a major money-laundering trial.   It said her company, Kamerton Consulting, defended Denis Katsyv, the son of a vice-president of state-owned Russian Railways who was charged with money-laundering in the United States over a case tied to a massive Russian tax-fraud scheme. The case against Mr Katsyv's company, Prevezon, was settled in New York in May for some $6m, three days before it was to go to trial, the AP said.  
The news agency said US investigators suspect the Cyprus-registered company, bought upscale New York City property with some of the proceeds from a $230m Russian tax-fraud scheme brought to light by a Sergei Magnitsky, the lawyer with investment advisory Hermitage Capital, who later died in prison. The US passed the Magnitsky Act in 2012 to target those Russians allegedly behind Mr Magnitsky's death.   The act has reportedly been a source of deep anguish to Russian President Vladimir Putin, who responded by ending American adoptions of Russian children.   Mr Veselnitskaya has for several years been leading a campaign to have the act overturned. As part of her effort she allegedly hired GPS Fusion. A complaint filed last year claimed that GPS Fusion headed the pro-Russia campaign to kill the Magnitsky Act.   Earlier this year, Senate Judiciary Chairman Chuck Grassley asked the US Department of Justice to launch an investigation into Fusion GPS.     "Fusion GPS is the company behind the creation of the unsubstantiated dossier alleging a conspiracy between President Trump and Russia," Mr Grassley wrote in the letter. "It is highly troubling that Fusion GPS appears to have been working with someone with ties to Russian intelligence - let alone someone alleged to have conducted political disinformation campaigns– as part of a pro-Russia lobbying effort while also simultaneously overseeing the creation of the Trump-Russia dossier."    At the time, Fusion said it was not required to register as a foreign agent under the Foreign Agents Registration Act.    Fusion did not respond to inquiries on Monday. In a statement to the New York Times, which originally revealed the meeting behind Mr Trump Jr and Mr Veselnitskaya, the firm said: "Fusion GPS learned about this meeting from news reports and had no prior knowledge of it. Any claim that Fusion GPS arranged or facilitated this meeting in any way is false."  
  Reports suggest the meeting between Mr Trump Jr and Ms Veselnitskaya was brokered by British music publicist, Rob Goldstone, Mr Goldstone told the Washington Post he had arranged the meeting at the request of a Russian client and had attended it along with Ms Veselnitskaya. Mr Goldstone has been active with the Miss Universe pageant and works as a manager for Emin Agalarov, a Russian pop star whose father is a wealthy Moscow developer who sponsored the event there in 2013. Ms Veselnitskaya coould not be contacted. However, in a statement to the Times she said: "Nothing at all about the presidential campaign [was discussed at the meeting. I have] never acted on behalf of the Russian government never discussed any of these matters with any representative of the Russian government."